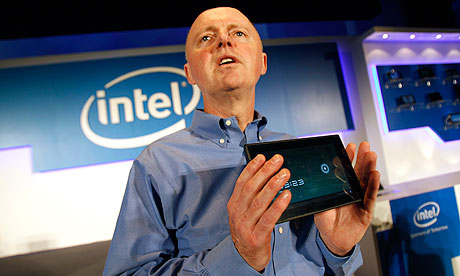 For information technology companies, it has become increasingly important to be a master of all trades, especially in mobile and PC technology. While PC's offer more functionality and can handle some more complex tasks, smartphones and tablets are important to help foster a mobile and remote business environment. The successful IT companies will be able to offer both to their customers.
On Monday, Intel announced at an event in San Francisco that it is launching its new Core microprocessors called Ivy Bridge for their thin laptops called Ultrabooks. Up until now Intel "has largely been shut out of the smartphone and tablet markets, where devices are most commonly powered by chips based on designs by Britain's Arm Holdings." Analysts say the new Ultrabook technology is an attempt to off-set moves by Arm Holdings to encroach on the PC market with the release of Windows 8 (the first Arm compatible version of Microsoft's operating system).
"The ultrabooks and tablets are where Intel and Arm's supporters are really going to be fighting for turf," says Rob Engerle, a tech analyst with the Enderle Group. "Whoever wins this middle group is going to have a lot of momentum going into PCs or phones."
As mobile content management becomes more crucial to giving businesses a competitive edge, The Globe and Mail has released some tips on developing a mobile strategy. This includes figuring out what work your employees typically use outside the office, which employees need mobile access for work, and how you expect to prevent a security breach in case an employee loses their phone or device. If it's too far outside your company's expertise, they suggest outsourcing.
WebPal has made sure to integrate mobility into its cloud content management systems by making your content accessible from a variety of smartphones and tablets. WebPal also connects with some of your favourite apps. To learn more, go to our features page.